Auckland MMA is one of New Zealand's premier MMA gyms, catering to people of all levels. We offer MMA, Brazilian Jiu Jitsu and Kickboxing classes for fitness and fun, while simultaneously running a very successful fight team. We have an extensive kids and teenagers MMA program, giving your child discipline, fitness, and a solid introduction into the sport.
Contact: Hamish Robertson
021818123 or 09 8010144
Venue: 56A Ben Lomond Crescent, Pakuranga, Auckland 2010.
Website: http://www.aucklandmma.co.nz/
Head Coach: Hamish Robertson
Assistant Coaches: Van Robertson, Kenton Rushbridge, Ev Ting and Andrew Barrett
Auckland MMA is run by a group of very experienced trainers and fighters.
Our coaches have competed in various styles of combat sports including MMA, BJJ, SJJ, Muay Thai, San Shou and Submission Wrestling. They have done this all over the world including New Zealand, Australia, Japan, USA, Wales, England, Macau and Vietnam.
Students at Auckland MMA gain a solid grounding in Grappling, Wrestling, Boxing and Kickboxing. We ensure that everyone understands and can apply the basic techniques. We also take a lot of pride in training fighters properly for fights, preparing them both physically and mentally for the challenge ahead.
Training Timetable: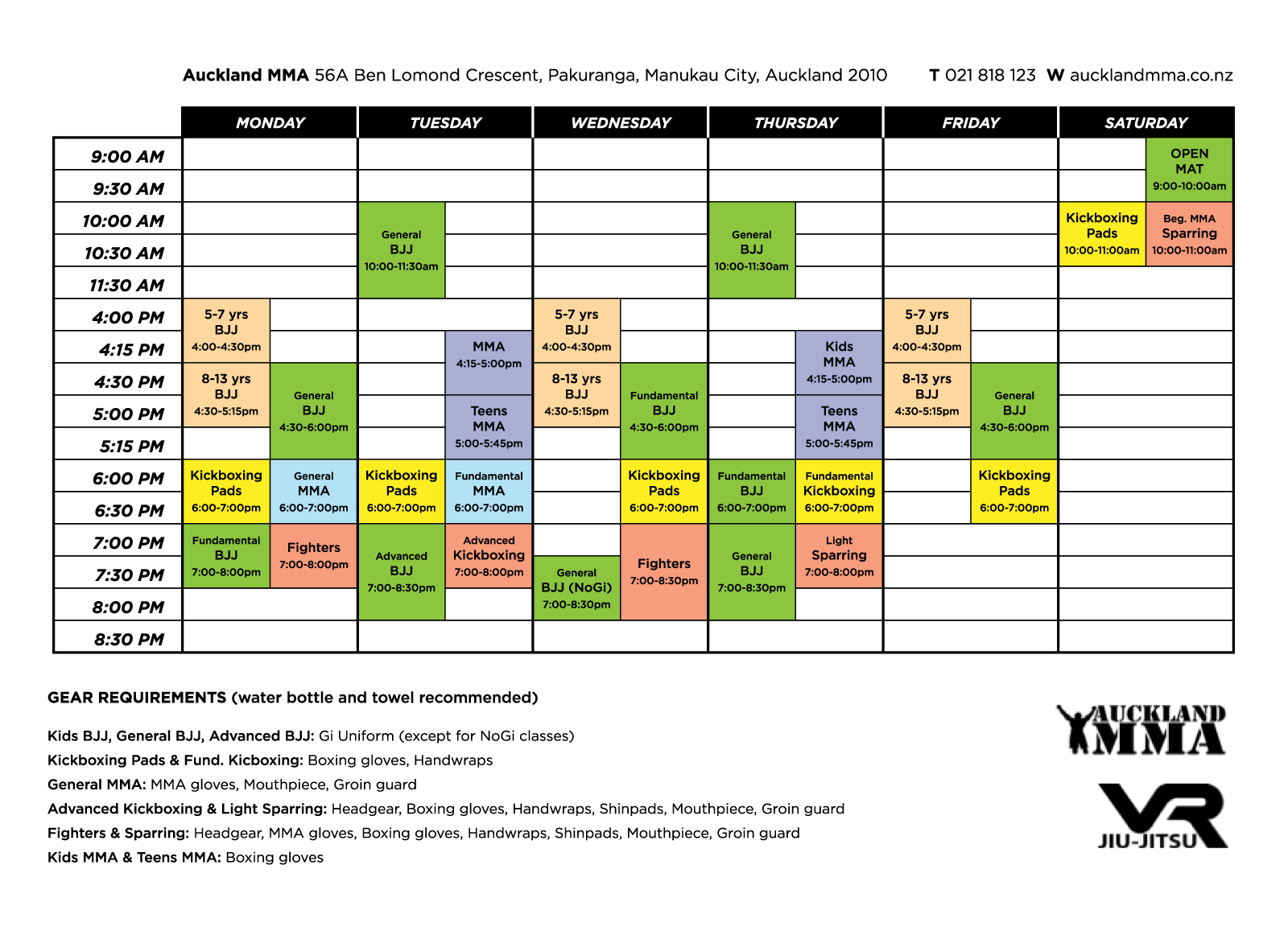 2020
Head Coach: Hamish Robertson

Qualified Personal Trainer - NZQA Level 4 Fitness Certificate
NZJJF C3 Advanced Coach
TRX and Kettlebell Certified
NZBCA Boxing Coach, IMMAF MMA Coach
MMA Officials NZ Qualified Referee and Judge
National Certificate Security Level 3 and Licenced Crowd Controller with COA
Aviation Security Level 3