Teaches Brazilian Jiu-Jitsu (of the Tsunami Brazilian Jiu Jitsu lineage), Submission Grappling, Self Defense & Mixed Martial Arts under the direction Head Instructor Pina Simpson (BJJ 1st Degree Black Belt).
The mission of Tsunami Southern Tribes Brazilian Jiu Jitsu is to offer the highest level of Brazilian Jiu Jitsu training in a safe, positive and enjoyable atmosphere.
We believe that instructors are "servant leaders", whose role is to guide and encourage the students for whom they work, so that they may effectively pursue their own individual goals in Brazilian Jiu Jitsu. We recognize that in order to lead effectively, instructors must act at all times with integrity and with the welfare of the student utmost in mind.
We respect the fact that each and every member of the Tsunami family is unique and contributes a vital part to the collective experience which is a Brazilian Jiu Jitsu team. As such, we openly and unreservedly welcome any and all students, from a wide diversity of backgrounds, who sincerely wish to learn the art of Brazilian Jiu Jitsu.
Instructor: Teariki 'Pina' Simpson, 1st Degree BJJ Black Belt, NZJJF C2 Club Coach
Contact: Pina Simpson, 027 GRAPPLE (027 4727753) 
Location: New Plymouth Wrestling Club (behind St James Church), 24b Lawry Street, Moturoa.
Training timetable: Adults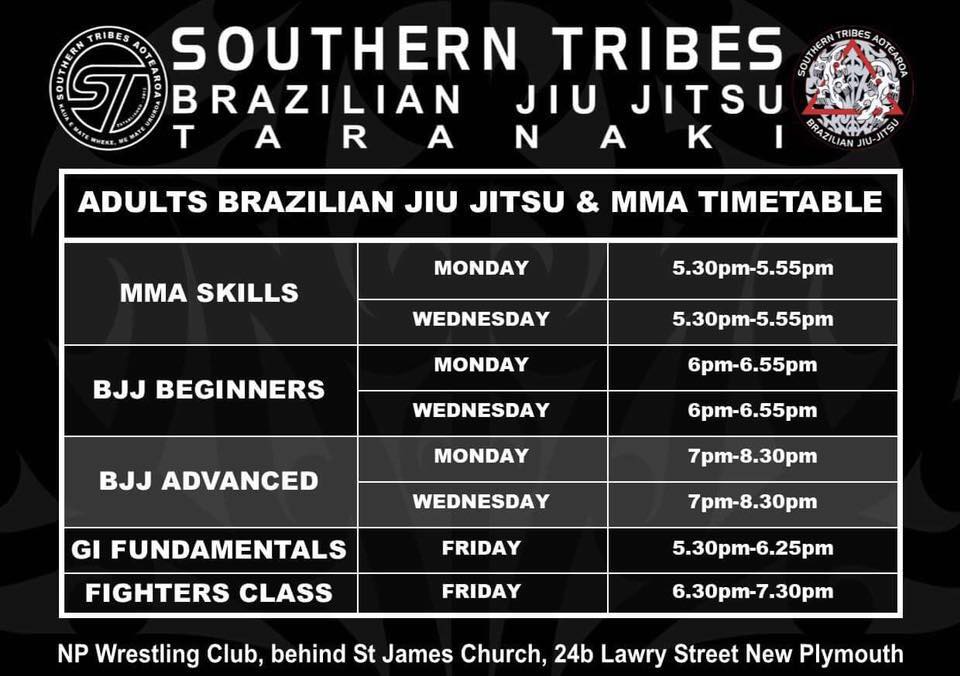 Training timetable: Kids 
About: We teach in a friendly, Whanau-orientated environment where self-confidence, self-awareness & self-respect flourish. Southern Tribes instructors are experienced competitors and coaches in both national & international competition. Whether you wish to train for fun, for self defence, for cardio or for competition, our team can help.
Facebook: https://www.facebook.com/SouthernTribesHQ
Website: http://southerntribes.co.nz/
2007