Teaches Shorinji Kan Ju Jitsu the style of Jitsu New Zealand
Venue: 6 Oxford Terrace, Newtown, Wellington
Times: Ju Jitsu Mondays 6.00pm till 8.00pm
                            Thursdays 7.00pm till 9.00pm.
Instructors: Paul Huston, 2nd Dan Olivecrona Ju Jitsu, 3rd Dan Shorinji Kan Ju Jitsu
                     NZJJF C2 Instructor
                     Cameron Edmonds, 1st Dan Shorinji Kan Ju Jitsu, NZJJF C2 Instructor.
                     Mat Roach, 1st Dan Shorinji Kan Ju Jitsu, NZJJF C1 Instructor.
                     Adam Rings, 1st Kyu Shorinji Kan Ju Jitsu, NZJJF C2 Instructor.
                     Camilla Raymond, 1st Kyu Shorinji Kan Ju Jitsu, NZJJF C1 Instructor.
Club Website: http://www.jitsunz.com/
Contact: Paul; 021658620
About: Jitsu New Zealand teaches the art of shorinji kan jiu jitsu which was brought to these shores from the Jiu Jitsu Foundation UK back in 2002 by its current Chief Instructor Simon Ogden. Although Jitsu New Zealand has a UK heritage, the style it teaches has continued to evolve in New Zealand due to its exposure to different styles of Ju Jitsu and to other martial arts. It means that Jitsu New Zealand has moved to principle and fundamental based teachings focusing on mind and body development, rather than isolated 'technique-based' study. Fundamentals encompasses the study of breathing,  relaxation/tension, posture, awareness, the development of a connected mind and body, balance, sensitivity, coordination, recovery, and more across all sorts of movement contexts.
Although Jitsu New Zealand practices a primary 'style', we strive to practice and foster openness and curiosity, always engaging in and welcoming the exploration of everything the world of martial arts has to offer irrespective of style, school, or affiliation. Our regular classes are often infused with such cross-training insights and experimentations with the hope to broaden and deepen our understanding and skill. Jitsu New Zealand organises special sessions and seminars outside of regular classes that are not shorinji kan ju jitsu based which encourages its students to broaden their study of and understanding of Budo. Some examples of these arts are; Warriors Escrima, Aikido, Judo, Krav Maga, Systema, Aunkai Bujutsu, Military CQB, Batto-jutsu, Olivecrona Ju Jitsu and Karate.
The instructors of Jitsu NZ also hold grades and teach Olivecrona Ju Jitsu, Judo, Goju Ryu Karate and Krav Maga, in addition to teaching Shorinji Kan Jiu Jitsu. With our combined, multi-disciplinary skills and knowledge we strive to provide you with the highest possible professional level of training and instruction and create the most conducive environment possible for your learning and development. We teach to the syllabus of our founding organisation the Jiu Jitsu Foundation UK but as the grades progress we then incorporate the principles of Olivecrona Ju Jitsu.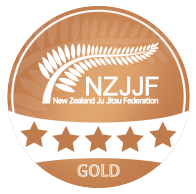 2015

Jitsu NZ Director - Sensei Paul Huston